Any health-conscious person must have already heard about the world's most popular two superfoods: spirulina and chlorella. Both these superfoods are microalgae and offer amazing health benefits. Packed with nutrients your body needs in order to maintain healthy functions, Health Ranger's Select Spirulina and Chlorella are both super clean, 100% organic and offered at an amazing price for a limited time.
Because we know so many of you consume these superfoods on a daily basis, we've prepared two super combos of these superfoods for you: For only $34.97, you can get the Clean Chlorella / Hawaiian Spirulina Superfood Combo that consists of 200 tabs of Hawaiian Spirulina Cold Pressed 500 mg and 1415 tablets of Clean Chlorella 200mg. The Clean Chlorella / Organic Spirulina Superfood Combo is now only $35.50 and contains 200 tabs of Health Ranger Select 100% Organic Spirulina Cold Pressed 500 mg and 1415 tablets of Clean Chlorella 200mg.
Hurry up and stock up on the greatest superfoods planet Earth has to offer – stocks of chlorella and spirulina are limited.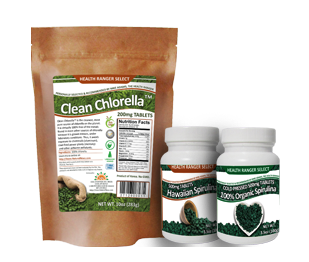 Why should you take spirulina daily?

*
Spirulina is one of the world's most powerful whole foods, a superfood that everyone should consume daily. Here are just a few of the amazing health benefits you can reap from daily spirulina intake:
Spirulina is perfect for vegans and vegetarians, as well as meat eaters – the bio-chelated iron it contains is very easily absorbed by the body.
This superfood supports the healthy functions of your heart and blood flow.
Spirulina is packed with amino acids, vitamins and nutrients
This superfood contains vitamins B1, B2, B3, B6, B9, B12, E, K1 and K2, all in their natural plant forms (NO synthetic vitamins).
Spirulina has even more antioxidants than blueberries
Spirulina is the superfood that shouldn't miss from any healthy diet.
THE CLEANEST SPIRULINA COMMERCIALLY AVAILABLE
In order to enjoy spirulina's health benefits to the fullest, you need to ensure that you buy this superfood from a reliable source. Health Ranger Select Spirulina is the cleanest laboratory validated spirulina you'll find on the market. When you choose our spirulina, you get the assurance that it has been meticulously tested in our own laboratory for purity and cleanliness:
Our spirulina is grown in a bio-secure zone
The Health Ranger's Organic Spirulina is 100% organic and GMO-free
Tested for radiation by a third party laboratory, Health Ranger Select Spirulina has been consistently found to have no detectable levels of radiation.
Kosher-certified superfood
Our spirulina is laboratory tested for heavy metals including lead, cadmium, arsenic and mercury
This spirulina contains all 94 trace minerals and elements and uses a patented Ocean Chill Drying technology to ensure maximum nutrient levels remain intact
Why should you consume chlorella daily?

*
Chlorella boosts your energy, supports healthy weight maintenance and is an excellent aid during gentle detox diets
Chlorella has a very high concentration of chlorophyll (the highest of any known plant!) – a superfood ideal for those who don't have the time to eat all the veggies and greens they should
Our chlorella delivers 15 times more phosphorus than spinach and 10 times more potassium than milk
Clean Chlorella may help your body naturally eliminate heavy metals consumed from dietary sources
Chlorella supports healthy immune system function
This superfood helps you look youthful and more radiant
Packed with a complete protein, dozens vitamins and minerals and 18 amino acids (including the essential ones), chlorella is what we call "a perfect superfood"
Chlorella supports healthy levels of cholesterol and blood sugar already within the normal range



THE CLEANEST CHLORELLA COMMERCIALLY AVAILABLE
Most of the chlorella you often find contains higher concentrations of undesirable heavy metals (because much of it is sourced from China). Due to industrial pollution, aluminum, arsenic, mercury, cadmium and lead are often found in chlorella that's grown outdoors, especially in China. These should never be found in a superfood! Don't be fooled by the "organic certified" badge when it comes to chlorella: "organic" has no limits on heavy metals. And our laboratory tests have found that when it comes to chlorella, some "organic" forms have far higher heavy metals than some non-organic forms of chlorella. Health Ranger Select Clean Chlorella is:
The world's cleanest commercially available chlorella
Laboratory tested for heavy metals and bacteria – the only chlorella ON THE PLANET that meets our strict standards
Unaffected by pollution because it is grown indoors, in a tightly-controlled indoor environment (for our non-organic variety) OR grown in sunlight and hydrated with mountain spring water in a pristine area of rural Taiwan (for our organic variety) – ideal environments for a superfood like chlorella
"The Cleanest Chlorella on the Planet"
The Health Ranger Guarantee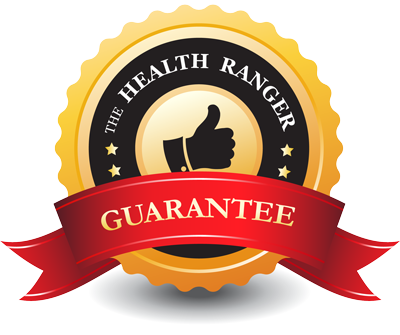 "I care what I put in my body and so should you. Because I no longer trust common labels and government tests, I personally oversee the sourcing and the testing of our amazing chlorella and spirulina. I know that they are absolutely the CLEANEST superfoods on the planet and I use them every day with amazing results. Join me in a healthier, happier lifestyle!"
– Mike Adams, The Health Ranger
What do people who tried our Superfood Combos have to say?
"This Spirulina is awesome, I have been taking it for over a year now and the results are amazing. It is so nice to know that what you are buying and paying for is chemical and toxin free. All of my friends and family take this and I appreciate all the hard work the Health Ranger puts into his products!"
"I have been using this product for well over a year now and absolutely LOVE it!! I take it faithfully every day. I did notice that I was not sick ONCE this entire horrible winter in New England. I have followed Mike Adams for a very long time now and trust the products he offers! This is easy to take, no aftertaste ever and great benefits."
"Love the product – it is an excellent super food. My husband and I both take the Clean Chlorella and our cat loves eating his daily serving of Chlorella tablets, as well. I am very grateful to the Health Ranger for sourcing and verifying Chlorella products that are low heavy metals and very clean. Thank you, Mike!"
– Catherine, Ontario, Canada
Take care of your body & your health. When combined, these two microalgae superfoods deliver a powerhouse of essential nutrients that helps support your body's spontaneous healing and lifelong health. Try them both at an unbeatable price, with unparalleled purity and scientific validation of composition. These are the CLEANEST chlorella and spirulina on the planet. Inventory is limited.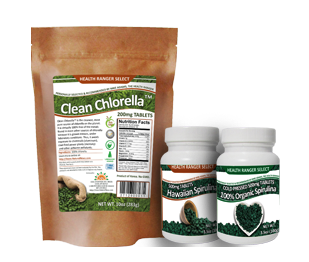 *These statements have not been evaluated by the FDA. This product is not intended to treat, cure or diagnose any diseases